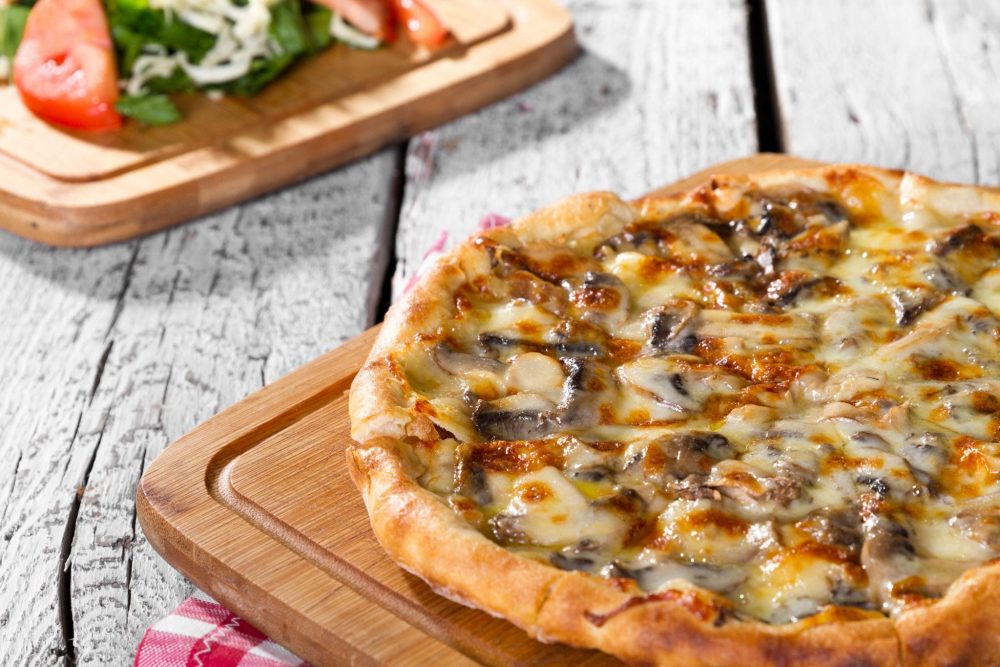 Top Specialty Pizzas
Many specialty pizzas are popular to order at most pizza restaurants. However, at Grandstand Pizza, we like to put a slight twist on some of our top specialty pizzas. If you're looking for a new and creative way to eat your pizza, check out just a few of our top specialty pizzas below and pick yours up today at Grandstand Pizza in El Cajon!
1. Chicken Pesto
Chicken pesto might seem like an odd request for a pizza, but this pizza is one of our top favorites. Nothing beats this Grandstand specialty pizza with perfectly cooked grilled chicken on top of a wonderful green pesto sauce, topped with artichokes, black olives, tomato, and fresh mozzarella.
2. Buffalo Chicken
Of course, we had to add the classic buffalo chicken to our top specialty pizzas list. You can never go wrong with ordering a delicious buffalo chicken pizza with buffalo sauce, red onion, ranch, chicken, and cheese. This pizza is perfect for hot wing lovers who are looking to branch out and try something new. If you're craving a buffalo chicken pizza with our 100% mozzarella cheese, place your order at Grandstand Pizza now!
3. Spicy Hawaiian
Hawaiian pizza is a classic favorite among Americans all across the nation. However, our staff at Grandstand Pizza decided to mix it up a bit by creating a spicy Hawaiian pizza. We top this pizza with Canadian bacon, pineapple, red onions, and sweet red chili sauce. If you're looking for a pizza with an explosion of flavor, order Grandstand Pizzas spicy Hawaiian!
4. Mediterranean
Our Mediterranean pizza is a specialty hit with our customers at Grandstand Pizza! This pie consists of olive oil, feta cheese, green peppers, red onion, green & black olives, and tomato. This pizza is loaded with tasty toppings that create a very light yet filling pizza. Our Mediterranean pizza is excellent if you're looking to try something new and outside of the box. Have any questions about our menu or specialty pizzas? Speak to one of our team members and place your order today!
5. Chicken Alfredo
Even though chicken alfredo goes great on pasta, it also is the perfect topping for a specialty pizza! Our grilled chicken laid on top of our creamy alfredo sauce, topped with spinach mushrooms, tomatoes, and garlic, is mouth-watering. This specialty pizza will have you reaching for slice after slice!
6. Philly Steak
Philly steak pizza is not a standard order at most pizza places. However, it's one of our classic specialty pizzas at Grandstand! We load this pizza with steak, green peppers, mushrooms, and onions. If you're craving Philly steak but want to get creative with how you eat it, try out our Philly steak pizza.
Why You Should Order from Grandstand
Have you been craving multiple types of pizza that you can't regularly order at other restaurants? Check out Grandstand Pizza in El Cajon and browse through our large menu that includes more than ten specialty pizzas that we make fresh for our customers. Go online to our website at grandstandpizza.com or call us at (619) 258-6888 to order today!